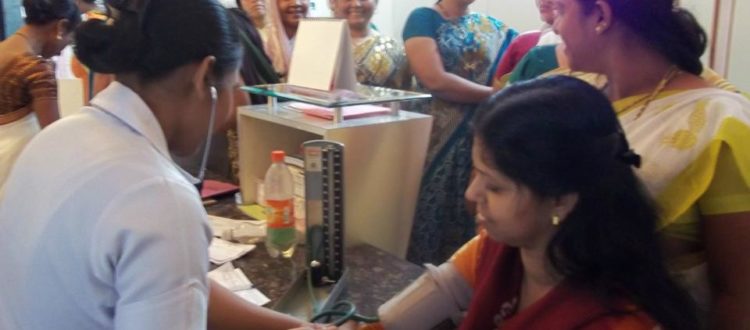 The vast majority of rural population is deprived of basic medical facilities due to expensive medical treatments in our country. Reincarnation Association is committed to bring positive changes in the lives of underprivileged sections of society by providing free medical treatment through various medical health checkup camps which includes-Community awareness & Counseling on healthcare & symptoms & signs of disease, sanitation & hygiene, Public awareness about the ill-effects of alcohol, smoking, drugs etc., Awareness & Counseling program on HIV/AIDS, Vision impairment, Hearing impairment, Orthopedic problems, Dental problems, Gynecological problems, Pediatric complaints, Mental Health Problems, Distribution of eye glasses, aids & appliances- All free of cost, to the underprivileged.
Having access to sanitation is basic human right, yet majority of population in India suffer on daily basis due to lack of access to toilets. Absence of toilets leads to open defecation with untreated human waste, posing serious risk to health. Reincarnation Association has started the construction of toilets in the underprivileged areas of the society.
S
carcity of clean water in many parts of India has led to spread of water borne diseases as well as fatal cases. Through our initiatives we provide access to safe drinking water and hygienic sanitation facilities. Our focus is on both schools as well as the community. Community led total sanitation campaigns, promoting hygienic conditions through appropriate wastewater disposals and providing safe drinking water are at the heart of this program. We also address necessary areas in healthcare through health camps, nutrition programs and vaccination drives.
Be a change maker. Donate any amount towards providing access to safe water, sanitation and hygiene for everyone, everywhere. The amount will be used for piped water connection, ensuring running water supply in toilets and kitchen, installation of hand pumps in communities & schools, construction of household toilets to live a life of dignity, providing access to clean water.
All donations to Reincarnation Association are eligible for availing 50% tax exemption u/s 80 G(5) of the Income Tax Act, 1961
Permanent Account Number(PAN) of Reincarnation Association: AACAR3944F